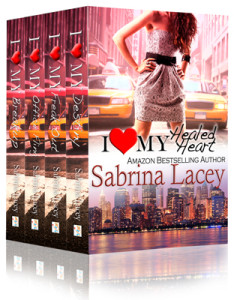 I'm very excited to showcase Sabrina Lacey and her "I Love My…" series.   She's also involved in the Kindle giveaway with me, so make sure to enter to win the Kindle Fire here.
Check out this bundle…I know I sure am.  Buy links are below, following the blurb.  Check out Sabrina's site here and happy reading!
"I Love My Healed Heart"
I'm Jessica. This wildly dangerous thing I'm doing… sending 
this 
email… just might change my life. I was cheated on, and I've been more than a little freaked out and heartbroken, since. So, this isn't the 
safest
 decision, but maybe I'm tired of playing it safe.
My girlfriends Amber and Nicole would tell me not to do it, but what none of us know is that I'm about to change all of our lives, just by answering a sex ad of a very special man who's visiting New York City – where we live – from San Francisco.
This is the very beginning of the "I Love My…" New York City erotic romance series. It's real. It's steamy. It's hilarious. It's heart melting.
Get ready to fall in love.
All 4 Novella Parts to Jessica's Hilarious and Steamy Story Are Included in This Bundle
"I Love My Breakup" (Part 1)
"I Love My Office Fling" (Part 2)
"I Love My Freak Out" (Part 3)
"David Sucks." (Flashback story of the actual breakup)
"I Love My Destiny" (Part 4)
"…a refreshing erotic romance." –– Two Tale Tales Blogspot
"This is a funny series that really needs to be read in order, and preferably at one time." — Hearts On Fire Reviews
"Like Bridget Jones and Sex and The City… only steamier!" – Amazon review
"I got cramps from laughing too much." — Goodreads Review
I Love My… Romance Series Order:  
I Love My Healed Heart (Jessica's box set.)
I Love My Side of The Story (Amber's novel)
I Love My Fire (Nicole's box set.)
Buy Links: