I am very pleased to have Nya Rawlyns on my blog to talk about her book blitz for The Shadow of This World.  It's currently on sale for .99 at Amazon.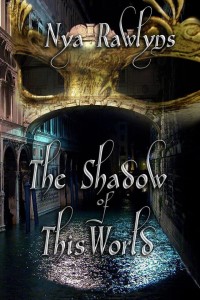 Three brothers from the fabled Medici family.
Two operatives from the future with conflicting agendas.
1515 Venice. Politics, greed and war with a side of religious fervor.
An epic journey through the tangled morass of one world gone mad, the other on the brink of another apocalypse.
One woman, four men.
Hearts beating separately.
Hearts beating as one.
All cloaked in the shadows of their worlds…
Antonio de' Medici
Meet the oldest of the de' Medici brothers, known to all as the Demon de' Medici, the man without a soul, his father's closest confidant, his youngest brother's staunchest supporter.
Antonio de' Medici, called as Tonio but only by his family, is a man of unusual and deadly talents, talents that make him the perfect interrogator and the ideal assassin. Tonio enforces his father's wishes without question, a killing machine in the service of his family and his city-state of Florence. His loyalty, his resolve are unquestioned—except when it comes to matters of his youngest brother and the future their father has planned for the young man.
Dispatched to secure what might be a political prize of inestimable value, Tonio gradually falls under Veluria's spell, but not so far that he cannot impose his own powerful will and extraordinary gifts in what becomes a tug of war: a war of spirit, determination and resolve. And a war of the heart.
Tonio will see to his brother's happiness, even if that means setting aside his desires and feelings for the strange woman enrapturing his soul-less existence. But an act of violence unleashes a side of young Stefano that will change the shape of all they know and understand. And it will set into motion a set of tragic events that no one, not even the Sisterhood, could have predicted.
 Excerpt
In this scene, Tonio struggles with conflicting emotions and a heavy dose of remorse for having so cruelly shamed his youngest brother in front of his men, inflicting both physical and emotional pain on a boy-man he'd vowed to protect.
Antonio attacked the night the way he approached everything, full frontal assault, without guile or finesse. He had little patience for fools and tonight his brother had stretched that patience to the breaking point. His shame and regret was a palpable thing but he must not let it interfere with the execution of his duties to his family.
Duty? Is that what drove him?
The simple mission had devolved into a disaster, partially of his own making. The woman was a formidable adversary with remarkable skills, certainly worthy of Cosimo's attention. What he couldn't fathom was why or how she'd managed to insinuate herself into his thoughts, planting seeds of an emotion he reserved only for his brothers.
If desire had a rhythm it was a staccato beat, not the faint flutterings of the merely smitten, but the steady thrum of senses on full alert, blood pounding hot and strong through his veins. Heat flooded his face, a burning, like ice, like fire, like nothing he'd ever sensed or experienced in his long, troubled life. He thought himself immune, protected from the vulnerabilities of emotions that served no purpose.
His father had taught him well and for years he'd banked those fires, taking his pleasure on his terms. But this … this was out of control, a wildfire racing through conduits long idle, now ablaze. He felt the panic and the bile rise in his throat and the delicious assault on his groin, hurtling him into readiness.
With a gasp, he collapsed against a fractured surface, rough and pitted, harsh on hands that knew little gentleness. What was wrong with him? It could not be her alone—this was too strong, coming from separate directions, beating at him like a storm gone wild, wind and hail and rain surrounding him from every quarter. He wanted, needed escape and knew there was none. Papà and his uncles would see to that. He would take back the control of the Demon, the Dark One. His gifts must not be squandered, his training forsaken, his attention splintered, fractured like a mirror hurled into space from the highest parapet.
His priority remained the same but the reasons behind it had shifted dramatically. He now understood he must find the woman before the other did, that nameless stalker who was but a wraith, vague in shape, indistinct— a darkness from which no light could enter or leave. He silently cursed his ability to feel other's thoughts … to peer even into their souls. It was a constant reminder that he had none of his own.
The distant sound of revelers, the strange shushing of cloth and soft-soled feet, lapping wavelets and creaking docks swayed to a symphony that was uniquely Venezia. Florence, his home, had nothing like this, this ever-present danger clothed in soft hues, vengeful nights and a sea that hungered for the soul of the city with a voraciousness not even he could match.
He ached for relief, for freedom from the pressure in his skull, and pain that threatened to drive him to his knees. The best he could hope for was to have cool logic replace the jumble of emotions consuming him from within: fear, longing, desire, need. None of that served his purpose.
He allowed a frisson of shame to remain. What he had done to his brother was inexcusable. Stefano was one of the few things in this world he truly cared about. The young one needed his guidance and protection. Instead he'd reverted to the monster all knew him to be.
With a sigh he straightened and forced all extraneous sensation to the background, willing the pain in his head to retreat. Logic dictated that she'd lose herself in a crowd, perhaps retreating back toward St. Mark's Square. Yet from that direction he sensed the stalker, the man's presence like icy fingers of dread racing up and down his spine. If he were in her position he'd try to put as much distance between them as possible. And that included himself.
With no way to know for sure he decided to go with his gut instincts. Turning to the right, he hastened toward the Piazzali Roma.
Were he a betting man, he'd lay odds he'd find Veluria first. Perhaps when Cosimo was done with her, he could indulge his fevered imagination…
Hungry for more?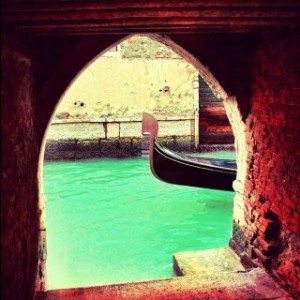 Stefano de' Medici
Stefano is the youngest of the Medici brood, considered the handsomest, the most adept at courtly manners and an irresistible charmer for women of all social stations. The pater familias, Cosimo, turns a blind eye to the many inappropriate liaisons that threaten to drain the family purse, the price never too high to smooth over outrage from cockolded husbands. Cosimo is a patient and indulgent father for he knows his youngest will service the family's interests when the time is right.
When Veluria targets the young man as her entrée into the seats of power in Venice and Florence, even her sophisticated training cannot prepare her for the delights she's about to experience.
Cosimo is no fool and he suspects Veluria is more than the vapid French courtesan beguiling his youngest. To learn more about a potential threat to the family interests, he dispatches his eldest son, his enforcer—Antonio, to bring the woman in for interrogation.'
Excerpt #2
In this scene, Antonio and young Stefano have rescued the mysterious courtesan, Veluria, from an unknown assailant. They seek shelter in an alcove, trying to assess from what quadrant the danger emanates.
"Stay back, Brother. She is fine." The tall man carefully shouldered his way into the narrow cubicle, mindful of his burden. He set the woman on a makeshift cot and turned to his sibling.
"Tonio," Stefano whispered, "she should not be here. This was a mistake. I never would have written that note," he paused, his face a mask of fear and concern, "had I realized how much danger…"
Tonio glowered at his brother, cutting him off. The young man had no idea of the stakes in this particular game. As always, his infatuations and conquests occupied him to the exclusion of all other considerations, a fact he and Nico secretly admired but their father no longer found amusing.
Whatever Cosimo had divined from his spies, the woman's elevation to person of interest had been swift and surprising, brooking no hesitation on Tonio's part when tasked with drawing the woman away from the court, forcing her into a vulnerable position. His father's preternatural instincts, bordering on prescience, had so far fueled considerable success in manipulating events in the family's favor. If this woman, and her supposed French connections, had merit in the old man's plans … well, who was he to argue the point. Politics seldom concerned him. Exercising directives did. This one had gotten interesting the minute he'd detected the interplay of energies in the tunnel.
As did the fact they had apparently picked up what amounted to a parade of stalkers. He'd lost the shadowy figure in the tunnel, but apparently not the hive of frustrated Papàl Guards who'd been dogging his heels for days. He tolerated their interference most times. This was not going to be one of them.
Stefano continued to fuss over the prone woman, mindlessly adjusting her gown until the tiny cubicle filled with an irritating high pitched rustle as the lengthwise grain of the silk resisted his frantic strokes.
Tonio hissed, "Uncle Giovanni's guards approach. Be quiet. It would be best if they did not discover all of us together. I have made other arrangements that do not include the family's incessant meddling."
His younger brother whined, "But why are they here?"
"Because Father or Uncle could not be sure you would follow through." His thoughts skipped a beat, logic dictating that there might be some question about his own commitment in this matter. His fondness for Stefano was no secret. Ignoring the implied complication he assured the young man, "You have nothing to fear, little brother, nothing but your unseemly attachment to this strange woman."
Stefano hissed, "I fear nothing, Brother, and I don't give a damn about unseemly. Do you think having the Papàl Guards parading about in all their finery will insure that I will—as you put it—'follow through'? If you do, you are a bigger fool than our dearest uncle."
Tonio advanced toward his younger brother, shoulders tense, long, elegant fingers fondling the jeweled hilt of his cinquedea.
"I think perhaps, dear Stefano, you should have more respect for Pope Leo. Father worked his particular form of magic to ensure our family's right to the succession. It would not do for anyone to think we are not united in this matter."
Stefano sneered at the older man, "Always the apologist, Brother. Whatever the old man says, you are there to kiss his…"
Tonio moved with uncanny speed, pinning his brother against the ancient frescoed wall, his right arm pressed against the young man's windpipe, his left gripping the short sword. Stefano's pupils narrowed to slits as he succumbed to his brother's brief show of mastery. Tonio recognized the capitulation with a brief nod, taking a fractional step back to put some space between them. The young man's slight intake of breath assured him he had his undivided attention.