I'm thrilled to have another excerpt from Scarlet Darkwood, this time from Mistress of the House.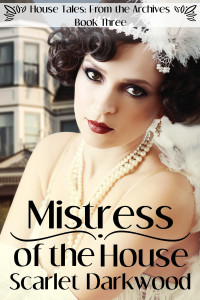 Prohibition is in full force, and temperance people are out to sterilize the world from immorality and every sin imaginable. But one place has remained hidden from the community, harboring a secret so bold those who dare voice it face the consequences. Thelma Starnsby know the secret well, and when she returns home from The House, she seeks to practice what she's learned, using techniques of show and don't tell. Though her skills are welcomed by her lover, they fail to move him to take their relationship to the next level.
Hatching a plan, Thelma desperately tries to see if absence truly makes the fires burn stronger.
Excerpt:
. . . Finally he broke the brief silence with his answer. "The thing I really like best, Thelma, is spending time with you. The meals are only a small part of the equation." He turned his head to face her, taking a moment to run his finger softly up and down against her cheek. "I think the real question should be, what have I enjoyed most about the meals?"
She felt the heat flair up in her cheeks, and her stomach lurched for a quick second. But she played dumb just a little in order to hear what he might say next. "I don't know. What have you enjoyed the most about them? I mean, was there something that made them special or stand out in some way . . . their texture, their flavors?" Her eyes strayed off his and trailed back to the lake gain. Out of the corner of her eye, she caught a glimpse of his face, with only the faintest hint of a grin to soften his otherwise intense expression.
"Textures and flavors—bah!" He clicked his tongue, pretending to chastise her. "I think you know exactly what I mean, Thelma. Let's just say our time together last night did something to me . . . something I haven't felt in a long time."
"Oh?" Her heart began to race.
Without another word, he reached out and held her face between his hands, and
delivered a soft kiss on her forehead, then her cheek . . . then her lips. With a force and power she'd never seen from him before, he kissed her with greedy, desperation, plunging in his tongue for a teasing swim in her mouth. All of a sudden, he wrapped both arms around her and pressed her lightly down on the ground, never taking his lips from hers.
The very heat of him seemed to set her on fire, as his hands began stroking her hair, and all the way down her neck. She let out a soft breath, while her heart beat fast with anticipation. Just as she'd hoped, he seemed intent on taking the lead tonight, and she possessed no mind to stop him. His fingers had already found their way to her breasts, rubbing the nipples underneath her dress. A tingling sensation seemed to ignite her whole body, and deep within her slit, the tiny bundle of nerves at the top continued tapping out a silent rhythm, nearly driving her mad.
The touch of his hands running up and down her right thigh gave her a jolt, making her realize just how far down he'd ventured by this time. She let out a soft whimper. For a split second he stopped. The evening still contained just enough light for her to see the lusty glint in his eye and the passionate look on his face.
Luckily, they still had no other intruders tonight to disrupt their tender moment under the tree.
Not a word left his lips, and ever so softly, he slid his hand underneath her dress. Little by little, his hand worked itself inside her panties, finally reaching behind and cupping her buttock. At this point, he delivered a light squeeze. She smiled to herself. He didn't have far to go; the short dress had indeed come in handy tonight.
"My turn, darling." He whispered the words in her ear. His hand had now moved away from her rear, making its way across her hip. In what seemed like an eternity, his fingers trekked over her soft mound, and finally rested inside her slit.
Thelma struggled to keep from crying out. His soft, thick fingers began coursing over her wet flesh, gently massaging her small lips, then lightly rubbing over her large lips. Without thinking, she parted her thighs a bit wider. Just as she'd imagined during her fantasies of him at night, alone in her room, his touch shot her arousal level to the highest degree.
She closed her eyes and swallowed hard. Through the breeze, the sound of her own wetness met her ears as he explored her nether regions like one fascinated by a new toy. Suddenly, with utmost tenderness, he slipped in a finger deep inside her, causing her to let out another whimper, a little louder than the first. The gentle gliding of his finger, back and forth, caused her to lift her hips, in hopes of satisfying the internal, carnal hunger.
"Oh, Harry . . . my god!" Her words now came out in almost a pant.
"Good?" He now slid out his finger and began using her own fluids as a lubricant, slipping over her clit, nice and easy, creating a heaviness that threatened to erupt in a series of spasms. "It's your moment tonight, sweetheart. Just relax and let go."
Another light cry came out of her mouth, and within seconds, the old, familiar tidal wave of release came crashing down over her, washing her away in a sea of pure bliss. The last few days of being home, free from the arms of her sensual House attendant, had caused her body to nearly convulse into erotic withdrawals. A gnawing emptiness inside had turned into torture, creating a desperate desire for someone to simply ravage her. As it turned out, dear Harry wasn't bad with those fingers, after all. . .
Purchase Mistress of the House from these ebook retailers: